Weddings are joyful events, so be sure to play lots of upbeat songs to add to that happy mood. Here are a few of our favorites.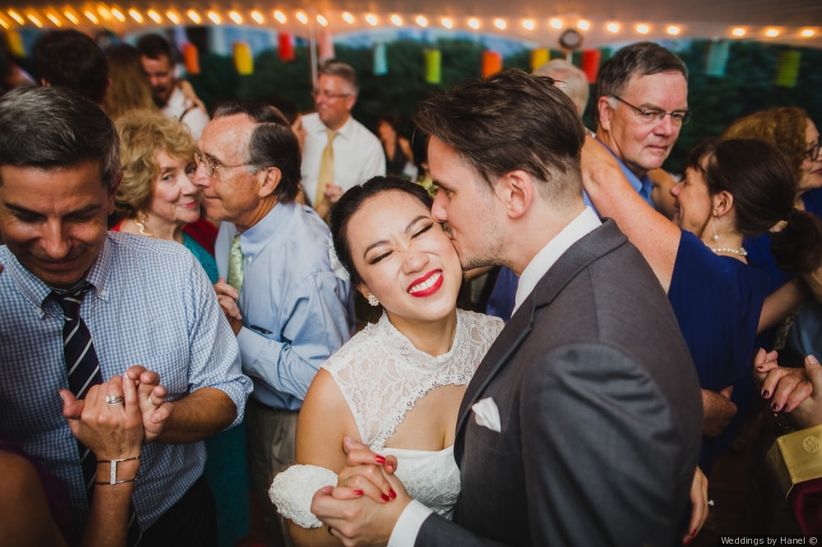 Playing upbeat songs during your reception are a surefire way for guests to dance the night away. From classic favorites to hot new tracks, you'll want to have a playlist that is filled with high-energy, upbeat wedding songs to help kickstart the party. So, if you're looking for a killer playlist to get everyone dancing on your big day, then you should totally check out this roundup of feel-good songs.
Your guests are sure to crowd the dance floor when you play these upbeat songs at your wedding.
"Shape of You" by Ed Sheeran
We (like everyone else this year) absolutely love Ed Sheeran. Therefore, we definitely think this pop hit will help get the party started.
"Hey Ya!" by Outkast
This 2003 jam will bring back #memories as everyone attempts to shake it like a Polaroid picture.
"Shut Up and Dance" by WALK THE MOON
"Shut Up and Dance" basically tells your guests (in a nice way, of course) to stop their chatting and to get out on the dance floor.
"I Wanna Dance With Somebody" by Whitney Houston
Seriously though, who wouldn't want to grab a dance partner once they hear this classic song?
"I Gotta Feeling" by Black Eyed Peas
We have a feeling that your wedding is going to be a good night—especially if you put on this upbeat song.
"Yeah!" by Usher
Another track that will take you down memory lane is Usher's "Yeah!". It has been a crowd pleaser since 2004 and is a perfect addition to you playlist of upbeat songs.
"Electric Boogie" by Marcia Griffiths
If you're looking for an upbeat song that everyone can dance to together, then why not choose the upbeat song that started The Electric Slide?
"Everybody (Backstreet's Back)" by Backstreet Boys
You and your besties will for sure get up and dance together as soon as this 90s throwback comes on.
"We Found Love" by Rihanna ft. Calvin Harris
Rihanna's vocals and Calvin Harris's beat make this dance song a perfect track to play during your reception.
"(I've Had) The Time Of My Life by Bill Medley
Calling all "Dirty Dancing" fans, this upbeat song will make your guests Swayze crazy.
"Downtown" by Macklemore & Ryan Lewis
As soon as Ryan Lewis starts singing "Downtown" we know it will be hard for you and your guests to not join the dance floor.
"Don't Stop Believin'" by Journey
Cue the lip synching and air guitars, Journey's classic rock song is an upbeat song for all ages.
"Timber" by Pitbull feat. Kesha
Once this song starts playing, you and your guests better be ready to "swing your partners round and round."
"Hot In Herre" by Nelly
When we hear this song it's hard not to think of Nelly's bandaid and middle or high school dance parties—making it the perfect throwback song choice.
"September" by Earth Wind and Fire
As soon as the lyrics "Do You Remember?" come on it will be hard for you or your guests to sit still during this soulful track.
"Let Me Go" by Hailee Steinfeld, Alesso feat. Florida Georgia Line, Andrew Watt
A pop song with a country twist, we know you and your guests will be out on the dance floor once the beat drops.
"Brown Eyed Girl" by Van Morrison
Whether you have brown eyes or not, Van Morrison's "Brown Eyed Girl" is a great upbeat love song to play to get the party started.
"Finesse (Remix)" by Bruno Mars feat. Cardi B
This remix of Bruno Mars' hit song "Finesse" is gold. Not only does this party song have a throwback vibe, but it is perfect for dancing.
"Just Dance" by Lady Gaga
A feel good jam that's great to sing and dance along to, "Just Dance" is an upbeat song that nails it when it comes to getting the party started.
"Can't Stop The Feeling" by Justin Timberlake
Ah, Justin Timberlake literally kills it every time when it comes to pumping up the crowd—especially with this party song.
"Lost in Japan" by Shaun Mendes & Zedd
If you're a Justin Timberlake fan, you'll likely love the smooth vocal stylings of Shaun Mendes in this upbeat song. It's a tune that will definitely be frequently played at 2019 weddings.
"Taki Taki" by DJ Snake feat. Selena Gomez, Ozuna, and Cardi B
This is a super-sultry party song and ideal for either late-night or the after-party. We love the song's Latin flavor—it's sure to draw your guests to the dance floor.
"You're the One That I Want" by Olivia Newton-John and John Travolta
Whether you're a movie-musical buff or just want to play an upbeat wedding song with some nostalgic flair, this song from Grease should definitely find a spot on your playlist.
"You Make My Dreams Come True" by Hall & Oates
We love this lively and upbeat song, which appeals to wedding guests of all ages. The Hall & Oates tune has been featured in many a rom-com, including The Wedding Singer and (500) Days of Summer, so it's definitely a favorite for many. It's also a great choice for a fun recessional song.
"Come on Eileen" by Dexy's Midnight Runners
There's nothing better than a wedding singalong, and this is a popular choice if you want your guests to belt out some fun lyrics while jumping around the dance floor.
"Feel It Still" by Portugal. The Man
Though this is a newer upbeat song, it appeals to guests of every generation. The beat is totally catchy and it's definitely a crowd-pleaser.
"Moves Like Jagger" by Maroon 5 feat. Christina Aguilera
We love a good wedding dance-off, and this is the perfect party song to form a circle and encourage your guests to show off their best moves (like Jagger).
"Raise Your Glass" by Pink
Weddings are all about celebration, and this song is all about having a good time (with drink in hand, natch). It's an ideal upbeat song to draw your guests back to the dance floor after a break.
"Crazy in Love" by Beyonce feat. Jay-Z
We all know that Beyonce and Jay-Z are straight-up relationship goals, so prepare to watch your guests do their best Bey and Jay impressions on the dance floor when your DJ turns up this upbeat song.
"Kiss" by Prince
Throwback songs are always favorites during wedding receptions, and this upbeat song is a fun choice to keep the party going.