Make your entrance one for the books with one of these expert-approved songs!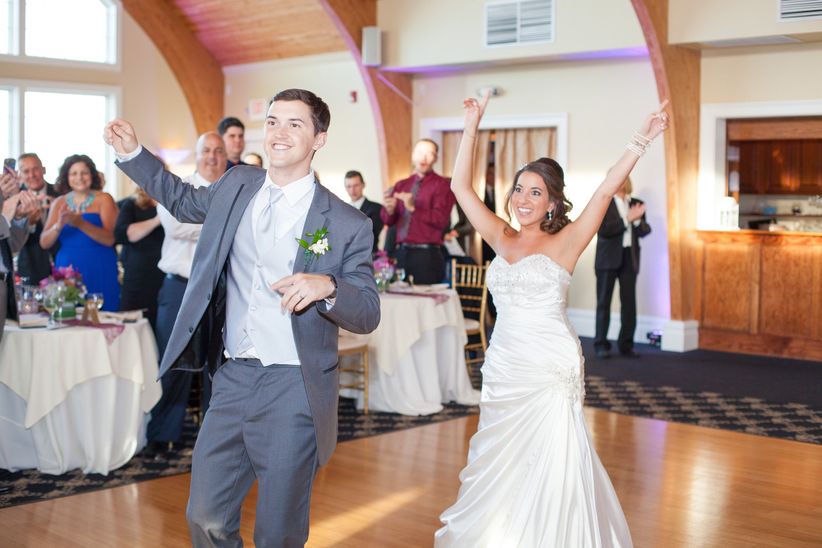 Photo: Tina Elizabeth Photography
It's one of your first big moments as a married couple—your "grand entrance" into your reception! The song you pick for this important moment is crucial—it will set the tone for your entire reception. We asked DJs from around the country to share their suggestions for grand entrance songs. Their advice? Pick something personal! "Choose a song that has an 'anthem' feel for your wedding, something that gives off the energy you are comfortable with while providing some creativity," says Matt Brys of Extreme Productions Entertainment in Sacramento, California.
Check out some ideas from the DJs
The DJ: Nina Russo of All Events DJs in Fuquay-Varina, North Carolina
The song: "Good to Be Alive (Hallelujah)" by Andy Grammer
Why it works: "This song's positive message makes you happy just listening to it and what's a happier time than a wedding?"
The DJ: Jared Redman of On-Site Productions in Birmingham, Alabama
The song:"Dynamite" by Taio Cruz
Why it works: "The song starts out slow, so I can talk over the music. Right about the time I've introduced the couple, the song hits the chorus. It is a really fun and energetic song with a good beat that really sets the mood for the reception!"
The DJ: Nate Nelson of LeForce Entertainment in Dallas, Texas
The song: "Confident" by Demi Lovato (Instrumental Version)
Why it works:"It's definitely a fire starter!"
The DJ: Paul Helms of DJPauly Entertainment in Salt Lake City, Utah
The song: Favorite movie songs!
Why it works: "Movie songs give some insight into a couple's personality and help connect family and friends more emotionally than a 'normal' pop song. Some of the more memorable ones are 'Hooked On A Feeling' by Blue Swede from Guardians Of The Galaxy, 'Jump In The Line' by Harry Belafonte from Beetlejuice or 'The Imperial March' from Star Wars. That last one always cracks the guests up, especially if the couple is really into Star Wars."
The DJ: Jon Smith of Unique Sounds Entertainment & Event Professionals in Raynham, Massachusetts
The songs: "It Takes Two" by Rob Base or "Give Me Everything" by Pitbull
Why they work: "'It Takes Two' is great for couples who are into more old-school music, while 'Give Me Everything' works for couples who like something newer."
The DJ: Jake Feldman of BCP Weddings in Grimes, Iowa
The song: "S.O.B." by Nathaniel Rateliff and The Night Sweats (Instrumental Version)
Why it works: "It's a great song that's not only got rhythm that the guests of honor (wedding party) can move to, but also has a very classic James Brown and the Famous Flames feel. It's great for those with an alternative appeal for music."
The DJ: Blair Saldana of Nashville Party Authority in Nashville, Tennessee
The song: "Bitter Sweet Symphony" by The Verve
Why it works: "This is a rare song in that it is both hip and classy and the instrumental version does not interfere with the wedding party introductions or clash with the couple's first dance selection."
The DJ: Steve Lebo of Party-Time Productions DJs in Monroeville, Pennsylvania
The song: "You Make My Dreams" by Hall & Oates
Why it works: "Have your DJ invite everyone on the dance floor to join the grand entrance and dance with you. This is a great song to make that happen!"
The DJ: Rich Leggitt of Black Tie Events in Norcross, Georgia
The songs: "Shut Up and Dance" by Walk the Moon and "I Gotta Feeling" by Black Eyed Peas
Why it works: "These songs set the tempo for an upbeat evening. For couples looking for a more formal and classic reception, pick a song by Frank Sinatra, Dean Martin, or Michael Buble for a different feel."
The DJ: Jason Martinez of DJ Jason & Associates in Atlanta, Georgia
The song: "Time of our Lives" by Pitbull and Ne-Yo
Why it works: "The track is a 'feel good' party anthem that keeps the introductions moving! It's high energy EDM/Dance sound helps to create a fresh and contemporary atmosphere all while reiterating 'Give me the time of my life' which is the whole point of a wedding reception."
The DJ: Shannon Edds of Extreme Southern Productions in Bedford, Kentucky
The song: "Uptown Funk" by Mark Ronson ft. Bruno Mars
Why it works: " It has such a good beat and some great breaks in the song so the DJ can make the entrance announcements."
The DJ: Don Fowler of Dance Masters Entertainment in Baltimore, Maryland
The song: "No Doubt About It" by the cast of Empire (feat. Jussie Smollett and Pitbull)
Why it works: "The pure energy and the beat of the song. Plus, the two lines 'If you came here to party/And ain't no doubt about it' make it a great high-energy way to start the night!"